Just reschedule, it's ok I'm a regular!
Updated: Sep 6, 2019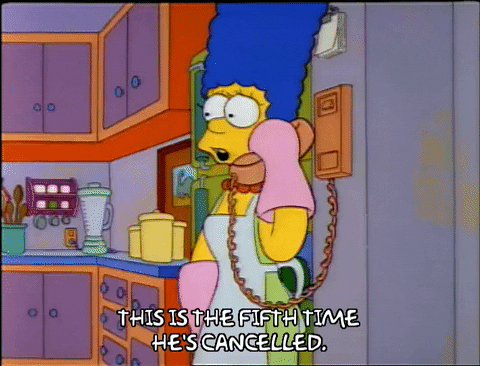 So were you very organised and booked you appointment in advance or perhaps you wanted a last minute appointment as life has been flying by you haven't managed to book earlier!
Fab you have your appointment but oh no something else has cropped up or you just cant make your appointment. Do you let them know asap or hang on to be certain you cannot attend? Forget? Or even become part of the no show clan?
The service industry is a hard line of business and it is a tricky subject to approach customers with a cancellation clause. Regular and loyal customers even more so as you build relationships.
Salons and spas can have a strong policy on cancellations, with a 24-48 hour window of cancellation required for notice. You will find they can charge a percentage fee or even full payment if you do not provide notice. This will be kept on your client record so non attenders/clients that give late notice are flagged in case this becomes a recurrence. Some businesses you also find that they may request you make a deposit or full payment to secure you session. Usually if this is for long session bookings, a spa or if you are a known notice offender. It may be hard to accept this if you simply forgot, however many businesses now confirm your appointment 24-48 hours in advance to help give you the opportunity to move if need be. Clients are the business, they cannot survive if appointment slots are lost. Staffing and overheads needs must be met. Self employed, mobile and home based therapists plan their day around their schedule. Waiting lists will usually be at the ready if you cannot attend ensuring gaps are filled. If you do not attend or do not give notice of cancellation this time makes a loss. Owners and managers do hold compassion under circumstances and the therapists know the stresses and un predicable life events that can occur. Feel safe that your interests are always a heart of the business as this industry is a people connected one.
Self employed, small team salons and solo therapist businesses can face a tough time in this area as their client base will be very personal and often built on a strong relationship level. Clients of these will also feel a desire to stay loyal and try their best to keep appointments unless really necessary to cancel, they can feel sorry to let them down. These therapists can usually also go out of their way to be contacted many hours and days of the week, compared to shop hours. This means they too will hold waiting lists or clients wanting to re shuffle their time or be able to add more to their appointment.
In all circumstances the more notice the better. Social media or shout outs are a good way for businesses to announce last minute availability and fill their slots.
The bottom line any business will respect your business but would like the same respect in return. Supporting the business or person you love and entrust to visit need your support to stay there for you to do so. Give as much notice as possible when you need to reschedule.